Black Friday and Cyber Monday Shopping Spree
BFCM Shopping Spree is coming! In celebration of the last major sale of the year, QIDI has carefully planned this sale to bring unmissable surprise discounts for 3D printing enthusiasts. The BFCM sales starts on November 17, 2023 (GMT+8) and ends on November 30, 2023 (GMT+8). All sale prices and discounts are valid only during this period. Now, let's take a look at what a great promotion QIDI TECH has prepared for you this time!
When you open the sales page, you can see that QIDI has prepared big coupons for everyone. The coupons are $399-10, $699-20, $999-30, $1999-60 and $2999-100. In addition, if you are a new user purchasing QIDI products for the first time, just click "GET 5% OFF FIRST ORDER" on the left side of the picture below and enter your email address to subscribe to the QIDI TECH official store. Although the first subscription discount cannot be used in conjunction with a coupon code, you can split your order to take full advantage of the discount, which I believe will bring you a very desirable price.

2、Unmissable Machines Offers
For the first time ever, the $1000 QIDI MAX3 has seen a significant price drop.  During the BFCM sale you can get a high-speed 3D printer with a build volume of up to 325*325*315mm and active chamber heating for only $899. Don't miss out on the best price of the year for the MAX3, and you won't be able to buy a large-sized machine at such a low price if you miss out on the BFCM sale!
In addition, QIDI PLUS3 and SMART3 are also seeing their biggest discounts of the year. For only $589, you can buy a high-speed 3D printer with a build volume of 280*280*270mm and active chamber heating. For only $299, you can get a compact and portable small-size high-performance 3D printer that you can print models for the upcoming Christmas and give your loved ones, kids, and friends a different kind of Christmas gift!

QIDI TECH also has different discounts on various previously released models, so if you are interested in our previous models, click here for more information.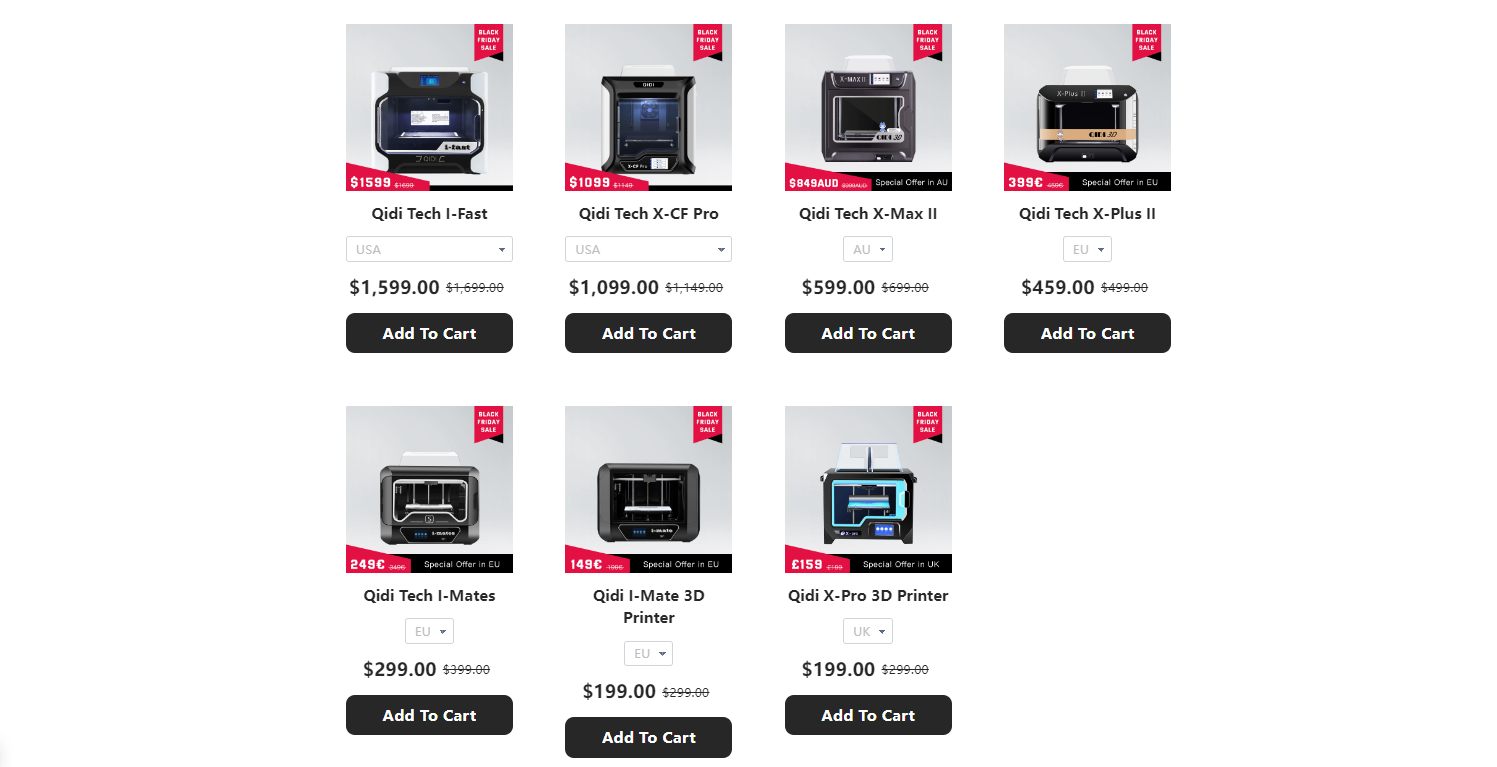 3、Surprising Filaments Discounts
QIDI TECH also brings you a very cost-effective filaments discount for all QIDI loyal customers, which can save you up to 40%.
40%OFF on ABS-GF25 and PET-CF.
Up to 35% OFF on PLA Rapido, PLA Matte Rapido and ABS Rapido. 20% OFF for 2 rolls, 30% OFF for 3 rolls and 35% OFF for 4 rolls and more.
Save up to 25%on PA12-CF, PET-CF, ABS-GF25, PAHT-CF and PETG-Tough. 15% OFF for 2 rolls, 20% OFF for 3 rolls and 25% OFF for 4 rolls and more.
More details can be found here.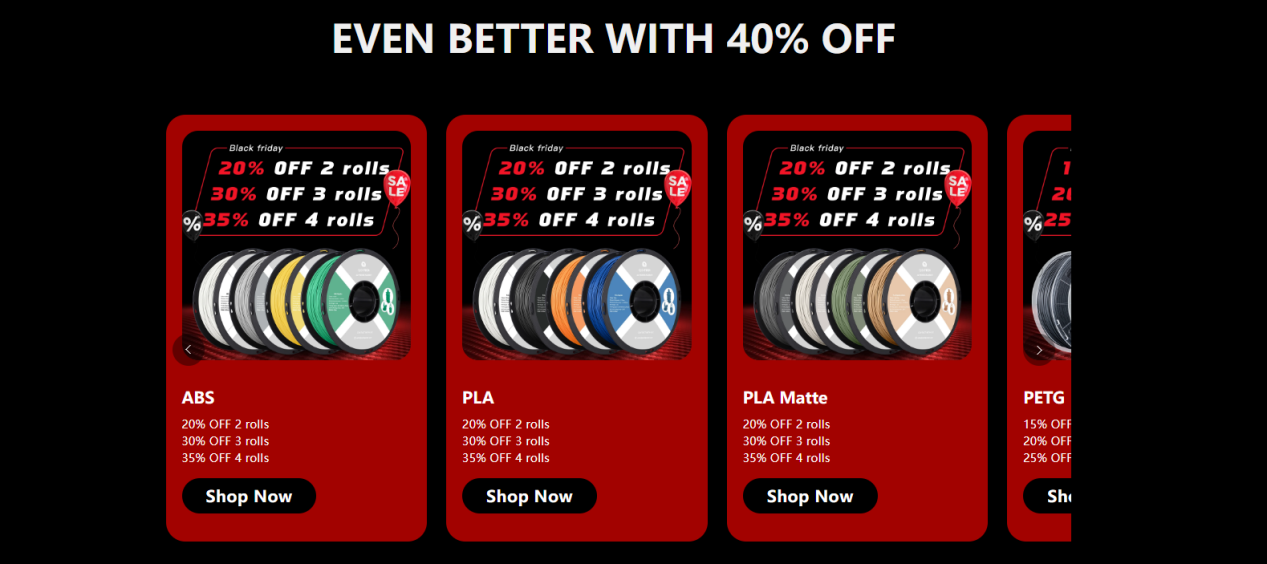 4、Accessories Hot Deal
In addition to the previously mentioned discounts on machines and filaments, QIDI TECH is also bringing you accessories discounts.
Buy MAX3 HF Plate/Double-sided gold PEI plate, PLUS3 HF Plate/Smooth Plate and SMART3 HF Plate/Smooth Plate can get 20% OFF for two and more.
Buy MAX3/PLUS3/SMART3 Hardened steel nozzle/Copper plated nozzle/Brass Nozzle (2pcs) can also get 20% OFF for two and more.
More details can be found here.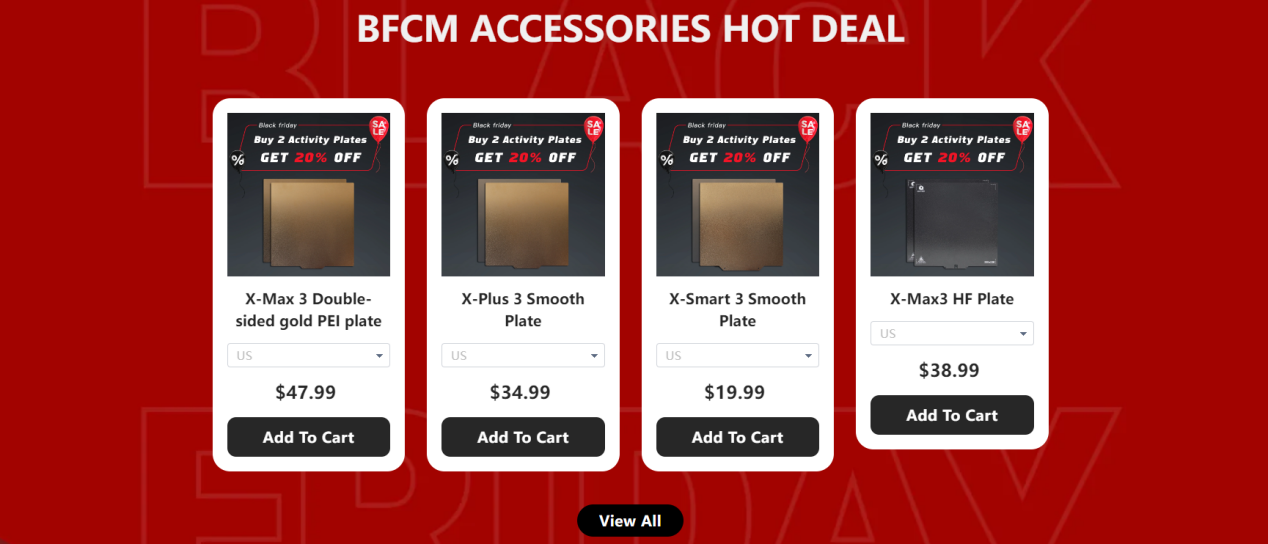 5、Mysterious Surprise
Users who purchase a QIDI 3d printer can share their printed models on YouTube, Facebook, Instagram, Twitter, Reddit or TikTok and @QIDI TECH official account. With the screenshot, you can send a private message to QIDI TECH and you may get a surprise! The best models may also appear in the official QIDI TECH social media accounts or the official store, so come on and share your models!
There are only 10 days left in the BFCM Shopping Spree, so missing out on this sale is missing out on the best time to buy QIDI TECH products! Don't hesitate! Come and buy your favorite products!
---